Isol
A 10-line TurboBASIC XL program for the Atari 8-bit computer
Written for 2014 NOMAM programming competition
Bill Kendrick, March 27, 2014
An entry for the NOMAM 2014 10-line TurboBASIC XL game competition.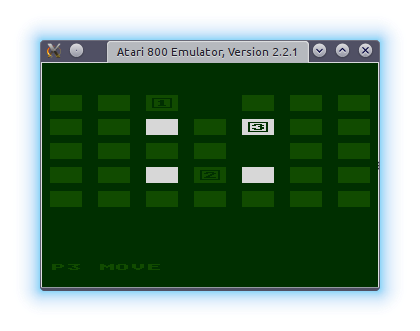 ---
Objective
This game is based on "Isolation" for the Commodore 64, written by John Dearden and published in Compute!'s Gazette for Commodore 64/128 Users, Issue 83, Vol. 8, No. 5 (May 1990). I originally ported it to Atari BASIC the same year (as a teenager!), and you can find that version within my Atari Relics: "Isolation". This version is a rewrite from scratch.
The game is played with 2-4 players on a 7x5 grid of cells. Each player attempts to trap their opponents by destroying cells on the board, and move around to avoid being trapped themselves.
---
Gameplay
This version of the game is played with 2-4 players and one joystick. When the game begins, you will be prompted for the number of players ("PLAYERS?"); press the [2], [3] or [4] key on the keyboard.
Each player takes turns playing. Each turn has two steps: moving to an adjacent cell (you are prompted, e.g., "P1 MOVE"), and destroying an adjacent cell ("P1 FIRE"). During each step, push the joystick in any direction (including diagonal) and press the [Fire] button to move or fire.
Note: In the original C=64 version, the theme of the game was that of a boat battle. The boats could not fire directly at each other due to the danger of explosion; instead, you could fire at any unoccupied cell on the board. My version is simplified in that you may only fire at an unoccupied cell adjacent to your ship.
Dark-colored cells may be occupied by a player, or destroyed during the firing phase. Four light-colored cells near the center may be occupied by a player, but may not be destroyed (they are indestructible). Each player starts on one of these cells. Black cells have been destroyed, and may not be occupied or fired upon. Players' positions on the board are denoted as numbers within a dark- or light-colored cell.
If you are unable to fire (because none of the adjacent cells are unoccupied (no other player) and destructible (dark-colored)), the firing step will be skipped ("P1 SKIP" is shown).
If you are unable to move (because all 8 adjacent cells have been destroyed), your game is over ("P1 OVER" is shown), and your player is removed from the board.
If you are temporarily unable to move (because all non-destroyed adjacent cells are occupied by other players), your entire turn is skipped ("P1 SKIP" is shown).
---
Winning
The game ends when only one player can make any valid moves. At this point, the game will get stuck in a loop, stating that all of the other player's games are over, and asking the one remaining player to make a move.
---
Development
Unlike my previous NOMAM entries, this game was written in a text editor under Linux, and processed through linux2tbasicxl, a simple tool I wrote that converts plain ASCII (include sequences for escape and control characters) into ATASCII that can be ENTER-ed into Atari BASIC or TurboBASIC XL.
This allowed me to "cheat" (like some other NOMAM entries) by producing code that, even when all BASIC keyword abbreviations are used and all whitespace removed, are longer than the 120 characters (3 physical lines, 1 logical line) that the Atari's editor device ("E:") would normally allow. Code ENTER-ed can apparently be up to 256 characters long.
For testing, I used the Atari800 emulator, a Stelladaptor and a real Atari CX-40 joystick.
---
Line-by-line Breakdown of the Source Code
Setup
10 GRAPHICS 17:DIM A$(2),SZ(4),A(4):CH=(PEEK(106)-16)*256:MOVE 57344,CH,1024:POKE 756,CH/256:SC=DPEEK(88):DPOKE 708,210:SZ(0)=SC+106:SZ(1)=SC+232:SZ(2)=SC+112:SZ(3)=SC+226
Switch to medium-sized (20x24) colored text mode
Create space for a string (used when drawing the board, below) (A$), the players' positions (within screen memory) (SZ()), and whether a player is still 'alive' (A())
Find some space for a user-defined character set (relative to MEMTOP) (CH)
Copy the OS ROM character set into it
Switch to thast character set (CHBAS)
Find the beginning of screen memory (SC)
Set a pair of playfield colors
Set the starting position of all four players (SZ())
20 MOVE ADR(".................."),CH+208,16:MOVE ADR("................................................................"),CH+8,64
Copy shapes into our user-defined character set
30 MOVE ADR("................................................................"),CH+72,64:POKE 712,192:DPOKE 710,23567
Copy more shapes into our user-defined character set
Set the background and more playfield colors
Prompt
40 OPEN #1,4,0,"K:":? #6;"PLAYERS?":REPEAT :GET #1,K:K=K-49:UNTIL K>0 AND K<4:? #6;".":FOR P=0 TO K:A(P)=1:NEXT P:K1=1000:K2=2000:K3=3000
Open the keyboard (K:) device for input (oops, not necessary since TurboBASIC XL provides a GET command for keyboard input)
Ask how many players
Repeat...

Read a keypress (K)
Subtract the ASCII value of the "1" symbol
Repeat until we get a 0, 1, 2 or 3 (user pressed [1], [2], [3] or [4] key)

Clear the screen
In a loop from 0 to K (# of players) (P)...

Make that player 'alive' (A())

Set some constants for the line numbers of our subroutines (K1, K2, K3)
Draw Game Board
50 FOR Y=1 TO 5:A$=":;":IF Y MOD 2:A$=":;":ENDIF :? #6:FOR I=1 TO 2:? #6;":; :; ";A$;" :; ";A$;" :; :;";:NEXT I:NEXT Y:? #6:GOSUB K2
In a loop from 1 to 5 (Y)...

Set A$ to plain ":;" symbols
If we're on an even line...

Set A$ to inverse ":;" symbols (used to draw four light-colored tiles)

Print a blank line
In a loop from 1 to 2 (I)...

Jump to the 'draw players' subroutine
Main Loop
100 FOR P=0 TO K:SZ=SZ(P):POSITION 0,23:? #6;"P";P+1;" ";:N=63:GOSUB K3:IF AZ=0:A(P)=0:? #6;"OVER":PAUSE 60:ELSE :IF AC=0:? #6;"SKIP":PAUSE 60:ELSE :? #6;"MOVE":GOSUB K1:C=PEEK(SZ)&192:C3=(26!C)*257
In a loop from 0 to K (# of players) (P)...

Grab the player's position (SZ)
Move cursor to the bottom of the screen
Print "P" followed by the player's number (e.g., "P1")
Set a mask value to 63 (all but the highest 2 bits (i.e., ignore the 'color')) (N)
Jump to the 'scan surroundings' subroutine
If all adjacent tiles have been destroyed (AZ=0)...

Print "OVER"
Pause a moment

Otherwise (at least one adjacent tile has not been destroyed)...
If no adjacent tiles are available (they're all occupied) (AC=0)...

Print "SKIP"
Pause a moment

Otherwise (at least one adjacent tile is available)...

Print "MOVE"
Jump to the 'directional input' subroutine
Examine what's at our current location, getting the top 2 bits (the 'color') (C)
Get a pair of bytes that represent the symbol ":" with the same top 2 bit values (the same 'color') as what's at our current location (C3)
110 DPOKE SZ,C3:DPOKE SZ+20,C3:SZ(P)=S2:N=191:GOSUB K2:POSITION 3,23:GOSUB K3:IF AC=0:? #6;"SKIP":PAUSE 60:ELSE :? #6;"FIRE":GOSUB K1:DPOKE S2,0:DPOKE S2+20,0:ENDIF :ENDIF :ENDIF :NEXT P:GOTO 100
... in a loop from 0 to K (# of players)...

...at least one adjacent tile has not been destroyed...

...at least one adjacent tile is available...

Draw those two bytes at our location (a 2x2 square of them); this erases our player, replacing it with an empty tile
Set our location (SZ(P)) to the one chosen (S2)
Set a mask value to 191 (all but the 2nd-highest bit) (N)
Jump to the 'draw players' routine (draws us in our new position)
Move cursor to the bottom of the screen, just after the "Px"
Jump to the 'scan surroundings' subroutine
If no adjacent cell is an unoccupied, non-indestructable cell...

Print "SKIP"
Pause a moment

Otherwise (at least one adjacent tile is an unoccupied, non-destructable cell)...

Print "FIRE"
Jump to the 'directional input' subroutine
Erase the tile at the chosen position (S2)

Go back to the beginning of the main loop
Subroutines
Get directional input
1000 REPEAT :REPEAT :S=STICK(0):UNTIL STRIG(0)=0:S2=SZ(P)+((S&8=0)-(S&4=0))*3+((S&2=0)-(S&1=0))*60:UNTIL PEEK(S2)&N=26:REPEAT :UNTIL STRIG(0):RETURN
Repeat...

Repeat...

Read stick input (S)
Until the fire button is pressed

Get the new position, relative to our current position (SZ(P)), based on the joystick input (any of 8 directions) (S2)
Until the tile at that position, masked against N, is the blank tile symbol (:)

Repeat...

Until the fire button is released
Draw players
2000 FOR R=0 TO K:IF A(R):SZ=SZ(R):Q=1+R*4:C=PEEK(SZ)&192:POKE SZ,Q!C:POKE SZ+1,(Q+1)!C:POKE SZ+20,(Q+2)!C:POKE SZ+21,(Q+3)!C:ENDIF :NEXT R:RETURN
In a loop from 0 to K (# of players) (R)...

If the player is alive...

Copy their location into SZ
Get the first character of the player's 2x2 symbol (Q)
See what's at the player's location, grabbing just the top 2 bits ('color') (C)
Draw the four symbols, with the same top 2 bit values (the same 'color')
Check state of cells surrounding a player
3000 AZ=0:AC=0:XX=(SZ(P)-SC) MOD 20:FOR Y=-1 TO 1:FOR X=-1+(XX=0) TO 1-(XX=18):IF X OR Y:W=PEEK(SZ(P)+Y*60+X*3)&N:AZ=AZ+W:AC=AC+(W=26):ENDIF :NEXT X:NEXT Y:RETURN
FIXME
Set acculumators to 0 (AZ & AC)
Determine our horizontal position within a row (used below to tweak the X FOR-loop, to avoid scanning beyond the edges of the board, which would end up looking at the opposite side) (XX)

In a loop from -1 to 1 (Y)...

In a loop from -1 (or 0, if we're already on the left edge) to 1 (or 0, if we're already on the right edge) (X)...

If X and Y aren't both 0 (because we want to look at what's in adjacent cells, and not our current position)...

Look at what's at the cell adjacent to ours (relative to our position, per X and Y), masked against N. (W)
Add the symbol to AZ (it's used to see if any adjacent cell has anything — a tile, indestructable or not, and occupied or not — that we could move into, to see if we're still "alive")
If the symbol is an unoccupied tile, add to AC (it's used to see if any adjacent cell is unoccupied; together with the N bitmask, it let's us know whether the player can fire during their round)
---
Download
ISOL.TBS - tokenized TurboBASIC XL file
isol_20140327.atr - ATR disk image containing:

MyDOS 4.53/3 (DOS.SYS, DUP.SYS)
TurboBASIC XL (auto-run, TBASIC.AR0)
The game (TBXL auto-run, AUTORUN.BAS; except for the filename, same as ISOL.TBS stand-alone file, above)
---
Bill Kendrick, 2014, nbs@sonic.net, New Breed Software
Other games I wrote for NOMAM 2014