Atari Party 2011


Movies

June, 11 2011
12:00pm-5:00pm

Yolo County Public Library,
Mary L. Stephens Davis Branch
Blanchard Community Meeting Room
315 East 14th Street
Davis, California 95616

(Learn how to attend!)


---
---
Consult the schedule to find out when the movies will be shown.
---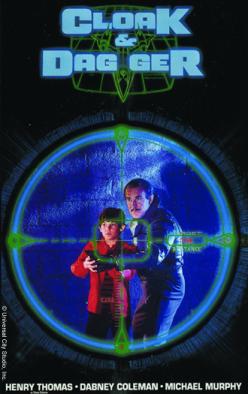 Cloak & Dagger
1984, PG, 101 minutes
At the end of the show, the games will be turned off and we'll be screening Cloak & Dagger on the main projector!
Cloak & Dagger, a 1984 film directed by Richard Franklin and starring Henry Thomas, Dabney Coleman and Michael Murphy, is a remake of the 1949 film The Window. A young boy, with a penchant for spy thrillers and video games, finds himself in the middle of real espionage when he's relentlessly pursued by spies after he comes into possession of a video game cartridge containing top-secret government info.
Critical to the movie's plot is an Atari video game called Cloak & Dagger. The game was under development using the title Agent X when the movie producers and Atari learned of each others' projects and decided to cooperate. This collaboration was part of a larger phenomenon at the time of movies featuring video games as critical plot elements (as with Tron and The Last Starfighter) and of video game tie-ins to the same movies (as with the Tron games for the Intellivision and other platforms).
References, and more at: IMDb and Wikipedia.
Thanks to our sponsors for making this film screening possible!
---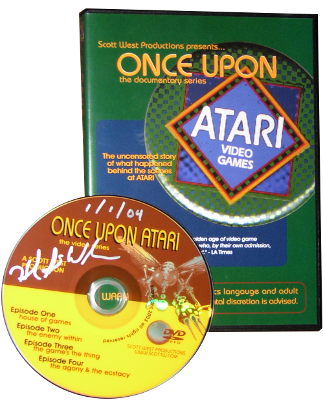 Once Upon Atari
2003, Unrated, 120 minutes
We've received permission to once again screen the documentary film Once Upon Atari, produced and hosted by Atari veteran Howard Scott Warshaw (creator of the Atari 2600 games Yars' Revenge, Raiders of the Lost Ark and E.T.: The Extra-Terrestrial).
This documentary series is a set of interviews wit h other Atari veterans from the late 1970s and early 1980s:
Nolan Bushnell, founder of Atari
Carla Meninsky, programmer
2600-warlords, 2600-dodge-em, 2600-star-raiders
Jim Huether, programmer
2600-flag-capture, 2600-game-of-concentration, 5200-realsports-football, 2600-sky-diver, 2600-steeplechase, 2600-hunt-and-score
Tod Frye, programmer
2600-pac-man, 2600-swordquest-fireworld
George Kiss, Director of Software at Atari
Jerome Domurat, graphics artist
2600-et, 2600-millipede
Rob Fulop, programmer
2600-cosmic-ark, 2600-demon-attack, 2600-missile-command, 2600-night-driver
Larry Kaplan, programmer
2600-air-sea-battle, 2600-bowling, 2600-brain-games, 2600-bridge, 2600-kaboom, 2600-street-racer
Bob Polaro, programmer
2600-defender, 2600-desert-falcon, 2600-rampage, 2600-realsports-volleyball
Alan Murphy, graphics artist
5200-countermeasure, 2600-defender, 2600-demons-to-diamonds, 5200-galaxian, 5200-pac-man, 5200-realsports-soccer, 2600-realsports-volleyball
Eric Manghise, programmer
5200-qix, 5200-space-invaders
Rob Zdybel, programmer
2600-realsports-football, lynx-warbirds
Suki Lee, programmer
2600-math-grand-prix
Dave Staugas, programmer
2600-krull, 2600-millipede
Howard Scott Warshaw, programmer
2600-et, 2600-raiders-of-the-lost-ark, 2600-yars-revenge
Note to parents: This film includes some swearing and is probably not suitable for young children.
---
READY