Prizes — General
Raspberry Pi 2 Model B (× 2)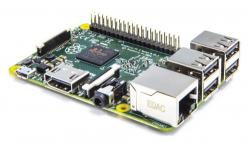 The
Raspberry Pi
is a series of credit card-sized single-board computers, created with the intent to promote the teaching of basic computer science in schools and developing countries. Released in February 2015, the
Raspberry Pi 2 Model B
consists of a 900MHz quad-core
ARM Cortex A-7 CPU
,
1GB RAM
,
4 USB ports
,
40 GPIO pins
(general-purpose input/output)
,
HDMI video output
,
Ethernet port
, combined 3.5mm audio jack and composite video output,
camera interface (CSI)
,
display interface (DSI)
,
Micro SD card slot
, and
VideoCore IV 3D graphics core
.
It can run the full range of ARM-based GNU/Linux distributions (including
Snappy Ubuntu Core
), as well as
Microsoft Windows 10
.
Thanks to
Rob McMullen
, host of the
Player/Missile Podcast
, for donating a RPi at
Atari Party
again! (He also sent Bill K., party coordinator, an RPi as a gift, but Bill would rather give it away, too. He'll be doing so, with Rob's blessing.)
---
Nintendo Wii video game console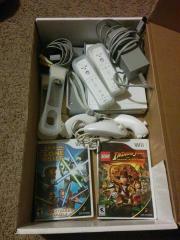 The
Nintendo Wii
was Nintendo's 2006 follow-up to (and backwards-compatible with) their Gamecube home video game console. It was released in 2006, discontinued in 2013 (a year after their
Wii U
was released), and its last official game came out last year (
October 2015
); there were nearly 1,800 games released on disc, plus 330 downloadable (WiiWare) games, and nearly 400
Virtual Console
games — both arcade games, and home video game console titles from Nintendo NES, SNES and N64, Sega
Master System
and Genesis, NEC TurboGrafx-16, SNK
Neo Geo
, and
Commodore 64
.
Original "Wii" (preowned unit, factory-reset)

Power adapter
Sensor bar
Composite audio/video cable
Vertical stand

Controllers

Wiimotes (x2)
Wiimote rubber sleeves (x2)
MotionPlus Wiimote add-ons (x2)
Nunchuck attachments (x3)
Rechargable Wiimote batteries (x2)
Charging station (note: may be broken)

Game discs (all with box & manual!)

WiiSports Resort (ESRB: E)
Deca Sports (ESRB: E)
Star Wars: The Clone Wars: Lightsaber Duels (ESRB: T)
Star Wars: The Clone Wars: Republic Heroes (ESRB: T)
Star Wars: The Force Unleashed (ESRB: T)
LEGO Indiana Jones: The Original Adventures (ESRB: E10+)
LEGO Indiana Jones 2: The Adventure Continues (ESRB: E10+)
Thanks to
Dean Kendrick
for donating this system.
---
Edladdin Super 78 arcade controller
The
Super 78
from
Edladdin Controllers
is an arcade controller built around an authentic
Sanwa JLF-TP-8YT
ball-top joystick with an octagonal restrictor plate and two Suzo-Happ pushbuttons. The octagonal restrictor plate is the perfect compromise between a 4-way and 8-way joystick, providing distinct landing points for your stick in all eight directions. The Suzo-Happ arcade pushbuttons deliver true left/right two-button control just like the original
Atari 7800
"Pro Line"
controllers (but with none of the pain). It's 100% compatible with the classic
Atari CX-40
joystick familiar to owners of the
Atari 2600
,
Atari Flashback
, and many of the 8-bit and 16-bit era computers, and which can be used with modern USB-based PCs using devices such as the
Stelladaptor
.
Thanks to Edladdin for donating this controller for our prize give-away. It will also be seen in action during the
Atari Party
, along with their
Super Twin 78
dual-stick controller.
---
Terrible Nerd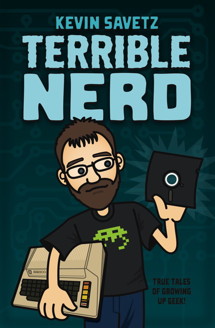 Terrible Nerd
s tech journalist-turned-Web publisher Kevin Savetz' biography of personal computing, gaming, and online adventures as a child in the 80s, and follows the author as an Internet pioneer in the early 90s and into his present-day Web success.
Thanks to
ANTIC: The Atari 8-bit Podcast
(of which Kevin is a co-host) for donating two copies of this book to give away at the party.
---
Books from No Starch Press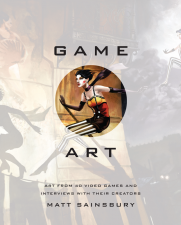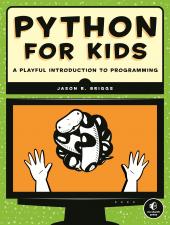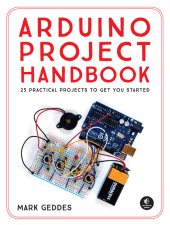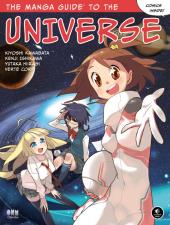 No Starch Press
publishes the finest in geek entertainment — distinctive books on computing, focusing on
open source/Linux
, security, hacking, programming, alternative operating systems, and science and math. Their titles have personality and attitude, their authors are passionate about their subjects, and they read and edit every book that bears their name.
No Starch Press'
goal is to make computing accessible to technophile and novice alike.
They have been kind enough to donate $150 worth of books for our prize drawing!
---
ANTIC: The Atari 8-bit Podcast interview collections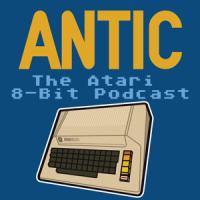 ANTIC: The Atari 8-bit Podcast
is a show dedicated to the
Atari 8-bit
line of home computers. Along with regular monthly roundtable discussions amongst the hosts, they also conduct interviews with a wide variety of people who were, or are, involved in the Atari scene, including modern homebrew software developers and programmers from the 1980s, magazine publishers and columnists, managers, hobbiests, and much more.
We'll have a set of ten (10) USB memory sticks containing 15 of the most popular ANTIC interview episodes (out of 180 and counting!). Totalling nearly
18 hours
of audio, it includes:
Nolan Bushnell, co-founder of Atari (and Chuck E. Cheese's)

40m

Al Alcorn, Atari's first employee, and designer of Pong

51m

Chris Crawford, author of the game Eastern Front (1941), contributor to the book De Re Atari (and founder of the Game Developers Conference)

1h 6m

Ihor Wolosenko, co-founder of Synapse Software

1h 7m

Fernando Herrera, co-founder of First Star Software, and winner of Atari Program Exchange's first Atari Star award

1h 10m

Michael Katz, president at Epyx, head of Atari's entertainment electronics division (and president of Sega Entertainment)

41m

Paul Laughton, author of Atari BASIC and Atari DOS, co-founder of Optimized System Software (and author of Apple DOS)

35m

Bill Wilkinson, co-founder of Optimized System Software, author of Insight: Atari column for Compute! magazine

1h 21m

Jim Capparell, founder of ANTIC magazine

1h 26m

David Small, co-author of Outpost: Atari column for Creative Computing magazine, and author of the book Creative Atari.

2h 42m

Dr. Priscilla Laws, director (at Dickinson College) of the AtariLab laboratory instrumentation system, for use in high schools

33m

Chuck Peavey, Atari game developer

1h 14m

Gerri Brisoco, co-founder of The Dovetail Group, creators of children's games

1h 24h

Cassie Maas, Atari Marketing and Tech Support

1h 48m

Atari Summer Camp: a special episode covering Atari's summer camps, including interviews with people who attended the camps as kids, some counselors, and the director of the camps

1h 57m
Thanks to
ANTIC: The Atari 8-bit Podcast
(via
Kevin Savetz
) for donating these USB sticks to give away at the party.
---
Funko POP Games: Ms. Pac-Man Action Figure
This Funko Pop! Games Ms. Pac-Man figure is a tribute to an iconic character from the Golden Age of Video Games. First released in American arcades in 1981, Ms. Pac-Man was one of the most popular arcade games ever produced, selling over 120,000 cabinets. A port was quickly produced for the Atari 2600 in 1982, with releases on other major consoles beginning the following year and continuing to the present day.
Thanks to Timothy Thatcher for donating this prize for the give-away.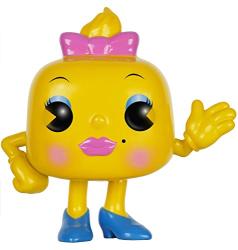 ---
Memorabilia (to be announced)
Philip Louie is once again bringing some Atari goodies (swag) to give away this year. More details soon (or just wait for the show!)
---
T-shirts and Tote Bags
Along with books, No Starch Press also sent along a number of t-shirts and tote bags. We'll give these away with the books.
Also, Chris Alaimo, editor of Classic Gaming Quarterly (and who will be exhibiting at this year's Atari Party), is donating a CGQ t-shirt for the give-away as well.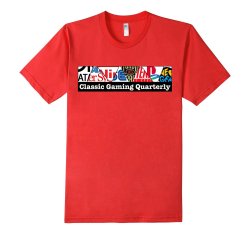 ---
Prizes — Atari 8-bit
Blaster video game cartridge for Atari XL/XE home computers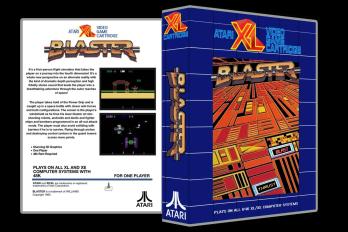 Blaster is a 3D video game designed by
Vid Kidz
(
Eugene Jarvis
and
Larry DeMar
, previously from
Williams Electronics
, and both of Defender and
Robotron: 2084
fame, among many others). Initially developed for the
Atari 8-bit computer and Atari 5200 game console, it was never released — until now. An arcade version was published by Williams.

Fast-forward 33 years, and the prototype of the Atari home computer version of Blaster is now available as a cartridge for the XL & XE series, from Eight Bit Fix, who specializes in the 8-bit computer line: repair, restoration, sales, and production of new cartridges like this!

Thanks to Eight Bit Fix for donating this game!
---
MacRorie's R-Time 8 Replacement realtime clock cartridge for Atari 8-bit home computers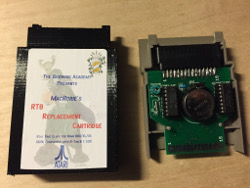 ICD's R-Time 8 was a realtime clock add-on for the Atari 8-bit line of computers, with its own battery back-up. It plugged into the Atari's cartridge port, but provided a pass-through slot to stack another cartridge on top of it — for example, you could stack it on top of a SpartaDOS X cart (which also had a pass-thorugh), and then stack another cartridge (programming language, BBS software, etc.) on top of it.

This brand new cart is a complete stand alone replacement for the ICD R-Time 8 cartridge. It is 100% compatible with all drivers and software made for the R-Time 8. This is a passthrough cartridge, like the original.

Thanks to Marlin Bates (aka MacRorie), for donating this to give away at thre party.