Atari Party 2014
Saturday, June 14th, 10am-4pm
Sunnyvale Public Library
---
---
Guest Speakers
We are pleased to announce two guest speakers at Atari Party 2014. Thanks to Digital Game Museum for helping arrange things!
---
Al Alcorn was employee #3 at Atari. In 1972, under the direction of its founders Nolan Bushnell and Ted Dabney, he designed Atari's PONG, one of the earliest video arcade games, and the first to reach mainstream popularity. Many consider PONG the cornerstone of the video game industry's success. Similarly, the success of the home versions of PONG and its clones — as well as Atari's extremely popular VCS/2600 cartridge-based game console (for which Al led development) — launched the home video game industry that today brings us the Nintendo Wii U, the Microsoft Xbox One, and the Sony Playstation 4.
Al will be discussing the creation of the PONG arcade game at Atari. Like most early arcade games, it didn't use a microprocessor; instead, it was implemented entirely in discrete logic. Nor did it produce graphics using pixels; every object on the screen was generated by timing circuits used to encode the video signal.
Sources: "Allan Alcorn" and "Pong" articles at Wikipedia, "Pong" article at the Computer History Museum, "Pong" at Atari Gaming Headquarters, and "Arcade PONG" at PONG-Story.
2:00pm — 2:45pm
in the Fiction section
---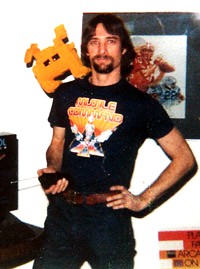 Photo courtesy Dan Kramer.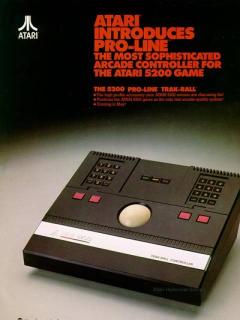 Photo from
GiantBomb
Dan Kramer worked at Atari, Inc. between 1980 and 1984, where he championed the creation of the Trak-Ball Controllers for the Atari 2600 Video Computer System (VCS), 400/800 home computers, and the 5200 SuperSystem — and holds a U.S. patent for the digital-to-analog interface used in the latter. Working in the consumer engineering group, he was involved in a wide range of products, including the 8-bit computer line, the unreleased "Cosmos" holographic game system, the 2600, 2700, 2800, 5200 and 7800 home game consoles, and designs for game controllers for a variety of those systems. Among numerous other responsibilities, Dan also provided technical support at trade shows, and even took part in the dissection of an "Intellivision", one of Atari's competitors in the home video game console market.
Dan will discuss his background, how he got hired at Atari in the summer of 1980, his experiences at trade shows, and how the home gaming Trak-Balls came to be. He'll also discuss subsequent controller ideas, the sale of Atari by Warner to Jack Tramiel, and the legacy of the Trak-Ball controller.
Today Dan lives near Fresno, restoring classic pinballs and juke boxes, collecting 45 RPM records, and renovating his 1965 International Metro-Mite step van — his main transport when he began his work at Atari, Inc. almost 35 years ago!
Note: Dan will also be bringing prototype games and hardware to this year's Atari Party, which will be set up for play along with the other games!
Further reading: DK Atari (Dan's website), "Atari Cosmos" article at Wikipedia. (© 2014 DKAtari (Dan Kramer))
11:00am — 11:45am
in the Program section
---