May 2nd, 2015 — 12pm-5pm — Yolo County Public Library, Mary L Stephens Davis branch — Davis, CA
---
---
Games and More
Systems and Games
Here are the systems you'll be able to play games on at
Atari Party 2015
:
Atari VCS/2600
(1977–1992) The cartridge-based home game system that took the world by storm in the early 1980s
Atari 5200 SuperSystem
(1982–1984) Based on hardware used in the Atari 400/800 home computers, this was Atari's short-lived attempt at the next generation home console
Atari 7800 ProSystem
(1984/1986–1992) Backward-compatible with the 2600 out-of-the-box, this home game system had a brief appearance in 1984, and was relaunched by Atari's new owners
Tempest arcade game
(1981) A "tube shooter" style shoot 'em up video game utilizing color vector graphics and a rotary "spinner" controller.
Atari 8-bits: 800, 1200XL, 600XL, 800XL
(1979–1992) Atari's first offering of home computers, sporting 1.779MHz 6502 CPUs, and custom co-processor chips that provided graphics and sound that were well beyond its early competitors.
Atari 16/32-bits: 1040ST, STe, TT030, Falcon
(1985–1993) The next generation Atari home computer included integrated MIDI support, a graphical desktop environment, and 16- and 32-bit CPUs, making it popular for music, CAD, desktop publishing, and gaming.
Atari Lynx handheld
(1989–1994) The world's first handheld game system with a color LCD (and backlit, to boot!), which could also zoom and rotate sprites, supported 4,096 colors, and could network up to 18 systems for multiplayer games. (It was release the same year as the black-and-white GameBoy!)
Atari Jaguar
(1993–1996) Atari's final game system, the 64-bit Jaguar was a cartridge-based system with a CD-ROM peripheral, support for networking systems, and bore a number of cult classic games (like Tempest 2000 and Alien vs Predator).
Coleco ColecoVision
(1982–1985) Competing with Atari's massively popular 2600, and more recent 5200 offering, Coleco's home game system came bundled with a home version of Nintendo's popular Donkey Kong arcade game (the first appearance of the world-renowned "Mario" character). Coleco's "Expansion Module #1" made the ColecoVision compatible with most Atari 2600 titles.
Nintendo Entertainment System
(1983–2003) With popular series like Super Mario Bros and The Legend of Zelda, the NES became the best-selling gaming console of its time, and helped revitalize the US video game industry following the video game crash of 1983. A number of early Atari arcade titles, as well as contemporary Atari Games titles (mostly published via their Tengen subsidiary) were produced for the NES.
Sega Genesis
(1988–1999) Sega's 3rd home game system (and the 2nd to hit US store shelves) is their 16-bit offering, and thanks to the 1991 release of "Sonic the Hedgehog", helped Sega overcome Nintendo's 5-year market dominance. Contemporary Atari Games titles (mostly published via their Tengen subsidiary) were produced for the Genesis.
Commodore Amigas: 500 & 2000
(1985–1996) One of the leading home computers of the 1980s and 1990s, the Amiga series of 16- and 32-bit computers from Commodore, like its Atari counterpart, sported a graphical environment. It was used for gaming, graphics, video editing, and 3D rendering and visual effects (e.g., early Babylon 5 episodes). While in the end a Commodore product, the original Amiga was conceived by numerous people involved in the development of the Atari VCS/2600 game system and Atari 400/800 computers!
Sony PlayStation
(1994–2006) Sony's incredibly popular CD-based game console is home to a number of classic game collections (such as Arcade's Greatest Hits: The Atari Collection 1).
Sony PlayStation2
(2000–2013) Sony's backwards-compatible follow-up to the original PlayStation packed more power, and saw even more classic game collections (like Atari Anthology and Activision Anthology).
Nintendo Game Boy Advance
(2001–2008) Nintendo's third generation handheld (after the original Game Boy and GameBoy Color, both based on the 8-bit Z80 CPU) uses a 32-bit ARM CPU, includes a Z80 for backward-compatibility, can do scaling and rotation. The SP model (finally!) added backlight support. All this power means classic arcade and 2600 games fit in your pocket.
Atari Flashback 2
(2005–2011(?)) A modern 'all-in-one' system containing 40 Atari VCS/2600 titles, and includes a reproduction of the original VCS circuitry (you can even add a working cartridge port to it!), unlike some other models of Flashback.
Raspberry Pi
(2012–) A series of credit card-sized single-board computers created with the intention of promoting the teaching of basic computer science in schools, which run Linux, and are extremely popular for creating various computing projects by hobbiests. Popular Atari emulators like Stella (Atari 2600/VCS) and atari800 (Atari 8-bit line of computers) are available for it.
Atari Party gives you the chance to see countless games running on real Atari hardware, using real game controllers, not a PC keyboard! That includes classic licensed titles like Space Invaders and Superman on the 2600, which have never been included in official "anthology" collections. You'll also revisit arcade titles via modern systems like the Sony PlayStation & PS2. Rarer Ataris, like the Lynx handheld and 64-bit Jaguar home console will be there, too! And don't forget the growing collection of recent homebrew titles that continue to come out, long after the systems stop being produced!
Numerous facts sourced from various Wikipedia articles.
---
Static Exhibits
Atari 800 Exposed
See the inner workings of a dismantled Atari 800 home computer (1979-1983).
Dan "The Trak-Ball Man" Kramer's memorabilia
Dan Kramer worked at Atari, Inc. between 1980 and 1984, where he championed the creation of the Trak-Ball Controllers for the Atari 2600 Video Computer System (VCS), 400/800 home computers, and the 5200 SuperSystem — and holds a U.S. patent for the digital-to-analog interface used in the latter. Working in the consumer engineering group, he was involved in a wide range of products, including the 8-bit computer line, the unreleased "Cosmos" holographic game system, the 2600, 2700, 2800, 5200 and 7800 home game consoles, and designs for game controllers for a variety of those systems. Among numerous other responsibilities, Dan also provided technical support at trade shows, and even took part in the dissection of an "Intellivision", one of Atari's competitors in the home video game console market.
---
Reading Material
A collection of classic and modern books and magazines about the early Atari systems will be available for perusal at this year's Atari Party: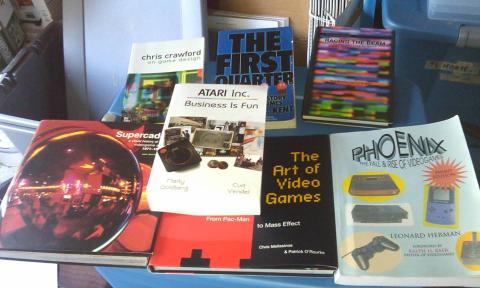 Classic Atari computer books
Classic computer magazines
Modern "retro-gaming" magazines
* — We'll also be giving away copies of these books during our
free prize drawing
!
---
Atari Party Home | Announcement mailing list | Email Bill Kendrick
"Atari" is a registered trademark of Atari, Inc. All other trademarks or service marks are the property of their respective owners. This event is not sponsored or endorsed by the Yolo County public library.