Also check out l600.txt, a set of questions I asked John Gildred, with his answers.
What's an Indrema?
Indrema was creating a video game console based on common hardware (x86-style CPU, DVD drive, hard disk drive, nVidia graphics chip, USB ports and Ethernet connector), and the excellent Open Source operating system, Linux.

The Indrema Entertainment System would have also been the first modern game console to allow free software to be developed for it, and made widely available to owners of the system (via GameXchange).

On top of all this, the system would have had some incredibly useful features, like:

a web browser (based on the "Gecko" rendering engine)

MP3, audio CD and DVD movie playback

personal TV features (similar to TiVo and RePlay: record, playback, pause and replay live television)

an e-mail client (using any ISP)

HDTV support

built-in Ethernet port (for broadband connectivity: DSL, Cablemodem and LANs)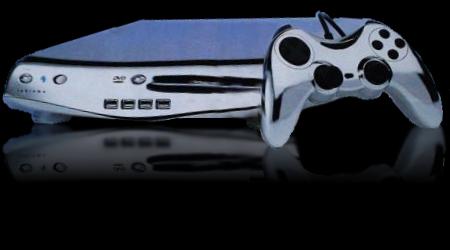 Specifics
Check out Indrema Developer Network's Under the Hood site for specifications.

To see how the Indrema would have compared to other modern game systems, check out IDN's Comparison Chart.

Here's a list of specs. for the L600 that I nailed down based on FAQs, mailing list posts, and from talking with Indrema CEO John Gildred on March 30, 2001:

Base:

750MHz AMD Duron CPU
64MB DDRAM
$299 launch price expected.
Availability to be determined (Fall 2001?)

Developer Console:

Developer consoles will be at cost ($600)
Availability to be determined (Summer 2001?)

Peripherals:

2 USB periperhal ports (back)
USB 2.0 specification

Storage:

10GB Hard Disk
DVD drive (at least 4x read)
USB external memory card reader (SD cards)
DVD-9 is the standard for pressing game discs. CD-R is being considered.

Network:

100Mbps Ethernet
USB external modem support
Peer-to-peer is available (connect two Indremas together with an Ethernet patch cable). Game software must be written to support this kind of connection, though!
"LAN Parties" can be had, using a HUB and Router instead of an Internet connection.

Graphics:

Nvidia GeForce3 4xAGP GPU
32MB DDRAM
S-Video Out
S-Video In
HD Component Out

Sound:

AC97-based audio
Software multichannel and low-latency effects
Stereo L/R Out
Stereo L/R In
Digital audio Out

Controller:

4 USB game controller ports (front)
Dual analog sticks
Digital directional pads
4 command buttons (in plus formation)
4 shoulder buttons (2 left, 2 right)
Feature button(s) (1 to 3 - not for gaming)
L600 comes with one controller

Keyboard:

USB (non-wireless) keyboards and mice can be used
Wireless (Infrared) keyboard with touchpad mouse built-in will be available
Similar to laptop keyboard (no number pad, for example)
Touchpad mouse will have two mouse buttons
Price: less than $40
Simple pop-up on-screen-keyboard will be available (for web and e-mail, without keyboard). Controlled using game pad or remote control.

Remote Control:

Infrared remote control will be available
Semi-universal: Not a "learning" remote, but will have codes for standard TVs, VCRs, etc.
Mainly used for PersonalTV and web browsing
Price: About $20

DV/Linux OS:

"DV Linux is an Open Source distribution of the Linux operating system specifically designed for consumer electronics -- that is, digital multimedia applications targeted at the television as the default view port. Indrema has partnered with Red Hat to initially manage the development of the DV Linux Distribution. Open Source technologies such as Mesa 3D and OpenStream will be included in the DV Linux distribution. A streamlined X-Window compatible display interface willallow for display of high performance graphics without the UI overhead of the desktop Linux implementations."
Kernel stored in FlashROM
BIOS is separate from kernel (so if a kernel update gets interrupted, you can start again)
Kernel/software will be available on a 'recovery' DVD which comes with the unit
OS RAM footprint is approx. 2MB

Web Browser:

Based on the open source "Gecko" page rendering engine (from the Mozilla project; used in a number of other browsers)
A "light" browser
Bookmarks supported
Currently not multi-user (everyone shares the same bookmarks, history and preference).

E-mail Client:

Simple; similar to WebTV's
POP-based (use any ISP!)
No IMAP support yet
E-mail can be left on the server
Currently not multi-user

PersonalTV:

TiVo/RePlay-like features: Record broadcasts, and timeshift (pause/rewind/slow-motion of live TV)
1 hour of video takes approx. 1GB of hard disk space
DVD-quality content off the Internet is planned (no relationships yet)
TV listings will be pulled off of the Internet (over SSL).
HOPE to provide the service for free.

Auto-Update Agent:

Will contain general enhancements, not patches or packs for specific games or 3rd party products.
(3rd parties could provide packs, patches and downloads themselves, of course!)
Tuning pack releases expected every 3 to 6 months
Pulled off the Internet (over SSL)

Games:

30 games are planned to be available at launch.
Titles are not being divulged until closer to launch.

Non-Game Software:

If non-games (eg, word processors, etc.) are ported, Indrema will certify them (assuming they meet technical requirements).
I want one!
The first Indrema console, the L600, was planned to initially ship in Spring 2001. It was to cost approximately $300.00 (US dollars).
---
Page last updated: 2001.Jul.27 13:39:41
Copyright Bill Kendrick, 2000-2023.
"Indrema," "L600," etc. are trademarks of Indrema. Linux is a trademark of Linus Torvalds.