Home | News
About Us | About OSS
The Lab


Mad Bomber
---
Storyline
The Mad Bomber is loose in the city and he's dropping bombs everywhere! It's your job to catch them before they hit the ground and explode. Luckily, you have a set of trusty buckets to extinguish them with.
Concept
Mad Bomber is a clone of the excellent 1981 Atari 2600 video game "Kaboom!" by Larry Kaplan of Activision. (Kaboom! was originally going to be an Atari-produced 2600 port of their 1978 arcade game, "Avalanche.")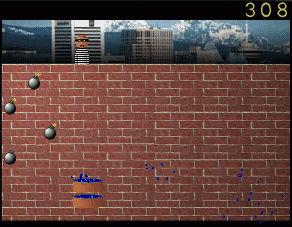 Play in the Air
In August 2007, Mad Bomber was one of first the games included in 'Red', the touchscreen-and-controller-based in-flight entertainment system found in Virgin America Airlines planes until being acquired by Alaska Air in 2018.
---


Licenced under the GPL