12pm-5pm, Saturday July 6th
Davis Public Library
Atari Party is an annual (more or less) exhibition of classic Atari video games from the 1970s, 1980s and 1990s. The event is free, and open to the public. No registration or RSVP is required. Volunteers donate their time and loan their games and systems to the event. Please note that Atari Party is not a sales or trading event, it's only an exhibit.
Atari Party is for anyone interested in reliving their childhood, or showing their own children the games that mom & dad grew up with.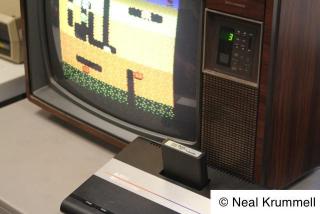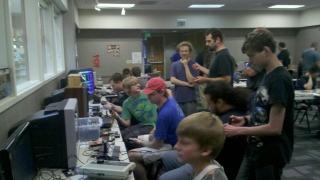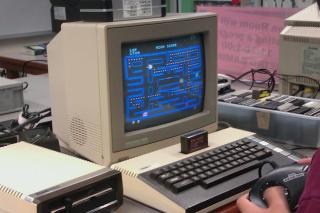 (Photos from previous Atari Party events.)
News
2013-09-14 - Robert Bernardo sent in some additional photos of this year's event. Enjoy!
2013-07-07 - Thanks to everyone for a great show! We had over 20 game systems set up, from 7 people's collections. Based on the number of raffle tickets given out for the free prize drawing, over 130 people showed up throughout the day; a dozen people won prizes. Check out some photos! (more coming as soon as people send them to me)
2013-07-06 - The day is upon us! I'm all packed up... see you at the library!
2013-05-16 - A flyer for this year's event has been made. I've posted it around downtown Davis, but please feel free to print it and post it elsewhere, too!
2013-05-14 - This year's event is already gaterhing volunteers & exhibitors. If you'd like to help out too, see that page's "How to help" section.
2013-05-07 - We've already got some sponsors lined up to donate some prizes for the free prize drawing!
2013-05-03 - This year's date and venue is confirmed! We're once again at the public library in Davis, all day Saturday, July 6th.